We understand how difficult and uncomfortable it can be to have a smile that you want to hide because of certain imperfections. If you are self-conscious about your smile, ask us today about cosmetic dentistry in Hometown, Illinois. Our cosmetic treatments include:
Cosmetic Dentistry Q & A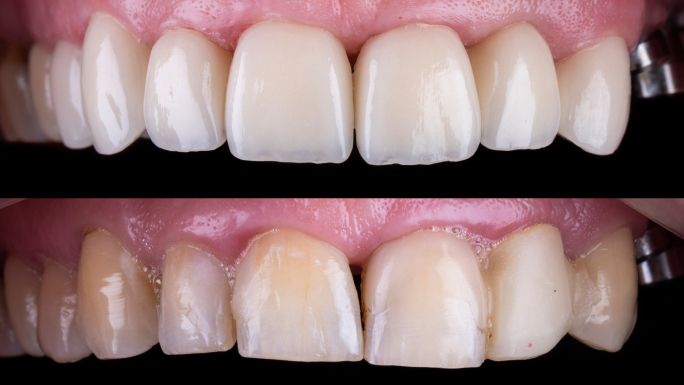 What Is Cosmetic Dentistry?
Cosmetic dentistry is any set of procedures that are done to enhance the look, color and shape of a smile. Rather than focusing on functional or preventive measures, these cosmetic procedures are performed entirely with the purpose of improving the aesthetic appearance of a person's gums, teeth or bite.
What Are Some Common Cosmetic Dentistry Procedures?
There are many different cosmetic dentistry procedures. To brighten teeth, there is teeth whitening, veneers and tooth-colored fillings. For patients that are missing teeth, dental implants, bridges and crowns are a great option to restore these missing pieces of your smile. When teeth are not aligned properly, braces and other orthodontic aligners can move teeth into the proper place. Other techniques include enamel shaping, direct bonding and periodontal plastic surgery.
Who Qualifies for Cosmetic Procedures?
Anyone who is unhappy with their smile can benefit from a cosmetic dental procedure. For example, people who have chipped or broken teeth can receive crowns, bridges or dental implants to fix these unsightly areas. People with severely yellowed or grayed teeth can get their teeth whitened with a teeth bleaching procedure. Some patients may even be unhappy with the size of their teeth or gums, all of which can be corrected with veneers or gum reshaping.
In order to prevent infection and ensure the success of the dental work, a patient is only required to have good oral health and no underlying medical conditions that could cause problems.
What Are the Benefits of Cosmetic Dental Work?
Cosmetic dental work can improve your self-esteem and revitalize your confidence and appearance. This added self-worth may cause others to give you more respect, increasing your standing in your social and professional lives. Additionally, it can improve the way you eat and talk and provide you with better overall oral health.
Please call Southwest Dental Center today at 708-425-4545 to schedule an appointment with Dr. Ashok Jhanji!